Product Details
kind·ness // noun // the quality of being friendly, generous, and considerate. Join us in our mission to spread love and generosity to everyone.
Introducing: The STIL Kind Club crew sweatshirt. Perfect soft fabric. Perfect fit. Perfect for every day. Perfect for everyone.
Perfect oversized fit.
This is a pullover, crew-neck sweatshirt designed with dropped shoulders for that perfect oversized fit. Our crew is available in taupe with beautiful taupe embroidery detailing on the front of the sweatshirt.
How does our S/M fit?
To be honest, it fits perfectly; not too big, not too small, it's really just right. This size typically fits anyone who wears a 4 to 10 in other clothing. If you are a 4-6 it will fit slightly oversized and if you are a 8-10 it will fit just right. Our model here is wearing our S/M and she typically wears size 6 to 8 clothing.
How does our L/XL fit?
This size typically fits anyone who wears a 10 to 18 in other clothing. If you are a 8-14 it will fit oversized and if you are a 14-18 it will fit just right. Both models are wearing our L/XL size. Ekeme (on the left) typically wears a size 12 and Vernice (on the right) typically wears a size 4-6.
Complete the set!
Keep the kindness flowing. Check out our Kind Club Tee to complete your Kind Club Set >> CLICK HERE <<
Customer reviews
Customer Reviews
02/03/2021
Kari B.

Canada
I recommend this product
Beautiful cozy sweatshirt
I love my STIL Kind club Sweatshirt. The colour is gorgeous and it is really cozy to wear. I get so many compliments about it and questions about the Kind Club! Thanks so much STIL.
02/03/2021
Zee D.

United States
I recommend this product
Qualitu
Three words - quality, cute, comfy and one more - warm :)
02/01/2021
Lea G.

Canada
Living tin this sweater
I was so nervous about the fit of this, but i'm so happy with this purchase.It's the perfect dusty pinky brown ****. The embroidery is gorgeous. I wish the embroidery was a bit smaller so it doesn't run under the armpits because the K and B go under the armpits, which is why i'm giving it a 4. Iv'e been sleeping in this overnight - the embroidery is hidden under the fleece so it doesn't rub on your skin. It's so soft and warm I never want to take it off and the oversized is soo nice. I think I could have sized down but I love how large the large is.
01/02/2021
Pamela G.

United States
My new fave
This sweatshirt is so simple and chic. I love the **** on **** color. The fleece on the inside adds extra comfort and warmth. The oversized fit is perfect. I love feeling like I'm wrapped in my sweatshirts and that's the exact feel I have with this one. The perfect sweatshirt for lounging around or even dressing it up.
12/18/2020
Laura L.

United States
Luxe in Sweatshirt Form
I'm in love. The high quality material is weighted and the shiny stitching in the embroidery is what the most luxe garments have, so I feel like this sweatshirt elevates my loungewear game in the best way possible. I've already received SO many compliments which confirms that this purchase was worth it. As someone who has been a celebrity stylist and fashion designer, I approve this sweatshirt.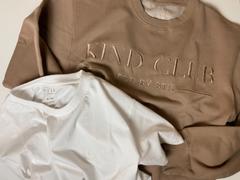 FREE SHIPPING OVER $70 USD

-->