Product Details
Side bag. Hip bag. Makeup Bag. A belt is included with this bag. Wear it one way or switch it up daily. The perfect stash and run; this bag is designed to take you from front row to your evening sunset strolls. The Exposé Belt Bag is a waist-bag made from high-quality vegan pebbled leather with solid gold tone hardware.
Customer reviews
Customer Reviews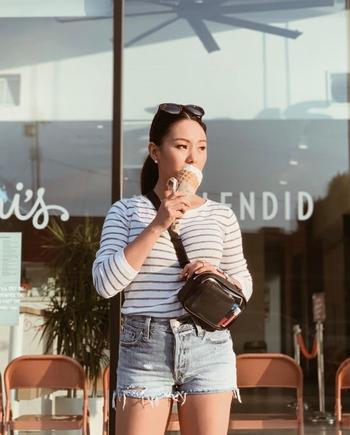 10/17/2019
J'ADORE!!!! <3
To say I love my clear Exposé Belt Bag is an understatement. I've been using it everywhere with all sorts of outfits since I got it. It's so versatile and functional and goes with anything! I feel proudly stylish wearing it. It adds that little bit of Oomph to my lazy day outfits of leggings and oversized sweater. And very chic to be worn with a dressier and more sophisticated look. And the clear window makes it easy for you to see where everything is in the bag. Perfect size, amazing quality! Love it so much I'm contemplating on getting the black version too!
Sierly N.
Canada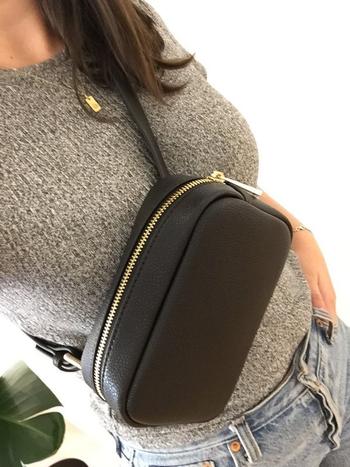 09/30/2019
So in love with this belt bag!
I got the black bag with the belt and I'm so happy to finally have a stylish "***** pack", one that I can wear every day, is SUPER convenient and makes every outfit better—To work, out on the town, biking. The quality of the material is super nice and the gold hardware is beautiful! I always have everything I need with me and I'm not worried about anyone stealing my phone or wallet out of my purse (& my arms are FREE, it's amazing!!!) If I ever need my bigger purse for my laptop, I can just slip the belt bag off the belt and it fits perfectly inside my bag for my makeup, advil, etc.. I also got the pink zipper pouch which has already turned into my little wallet, ******, lip chap pouch. It's definitely my favorite bag and will be for a long time! So in love!
08/07/2020
So functional and stylish
This is my new go to. I use it as a clutch, or a necessity pouch in my larger bags. It is perfect, and the quality is outstanding. I love it!
Christine S.
United States
08/03/2020
I love my new belt bag!
The bag is beautiful, great quality, perfect size and so stylish. Thank you Marissa :)
Monica H.
Canada

FREE SHIPPING OVER $70 USD

-->