Flip Through
Product Details
Our Daily Undated Six Month Planner is perfect for new planner users or those looking to customize their planning experience. Formatted to show a day per page, think of your planner as a diary, journal and notebook. Jot down all your daily tasks, events, reminders, deadlines and memorable moments for each day.
Lays perfectly flat.
With it's soft vegan leather cover it lays perfectly flat and is great for keeping at your desk or carrying around in your bag.
The beauty of undated planners.
Do you ever feel guilty for buying a planner and not using it for a few weeks? Well, guilt be gone! The wonderful thing about an undated planner is that even if you miss a few pages (or weeks) you won't feel guilty for neglecting it and that is a win win right there!
A big long to-do list.
If you're someone that loves making big to-do lists (welcome to the club) this planner is perfect for you. You get an entire half page of to-do's every. single. day. sooooo go nuts!

Join Our Community Of Boss Babes
My productivity is at an all-time high.
I am working on my quarterly goals and I am feeling super accomplished.
This is my third year using STIL planners and accessories. The attention to detail and quality is unmatched
I love my planner, it visually helps me see how much time I am working on my quarterly goals and I am feeling super accomplished.
Since using the planner, I've found that my productivity level has gone up significantly.
This planner is ahhhmazing!!!
I find myself working way less hours than before and having a constant piece of mind that is priceless.
Try it out!
Add your own custom monogram.
Enter your initials here 👇
YOU
Customer reviews
Customer Reviews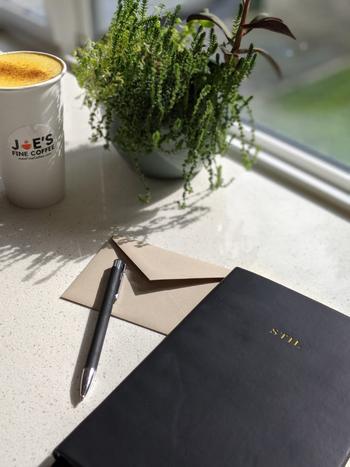 10/24/2019
I recommend this product
I Love this agenda!!
Okay, I'll admit it... I am a major journal/notebook/calendar/agenda junkie. I have lots to choose from, and to be honest my Stil agenda is right at the top! First off, I love the sleek design, it's small enough that I can actually carry it around with me, but also large enough that you feel like you actually have space to write, AND read what you have written! The sides of the notebook are gold and shimmery so it's the perfect about of fun and business :-) I love that each page is undated--yes, based off of the amount of journals I own you probably assumed I am a little specific about how I do things...BUT I am also human and sometimes I miss a day! Alas--the undated journal! No guilt, just productivity! If you like areas to write daily affirmations, tasks, morning/mid-day/evening plans and reminders, I highly recommend trying this journal!! :-)
Stacy C.
Canada
07/15/2020
I recommend this product
best planner i've owned
I love this planner! I've had it for a few weeks now and it has been such a great tool. I love that I can make a long to-do list while still building a schedule. Most planners either focus on one or the other, but this has equal importance for both. I also like that it's undated, meaning the guilt that comes along with skipping a few days is gone. Also, the design is so sleek and sophisticated! I will definitely be buying again.
Risa V.
United States
05/07/2020
I recommend this product
Finally a Journal I'm Excited For!
Throughout the last year of being in business, I've really struggled to find a journal that was built was for what I needed, rather than me changing my processes for the stationary. I love the un-dated 6-month planner because I've been able to not only plan my content but also my tasks for every aspect of my business! I love it so much!
Sara
United States
05/05/2020
I recommend this product
So productive!
As a person who has collected many planners/agendas over the years, this has definitely been the top for me. The long to-do list is perfect for busy days, and with the undated format you also have the flexibility to use it however you wish. The size is so portable that I can take it with me when I'm on the go. Also the design is so classic and professional I love the ability to add a monogram to it. Would highly recommend!
Ash
United States
03/02/2020
I recommend this product
Wow
I don't know what it is about this planner that is so functional. I've tried so many that are meh; but this is different. It works! One recommendation for me personally would be two markers, but that's the only thing I'd change.
Lawra R.
Canada
FREE SHIPPING OVER $60 USD