Flip Through
Product Details
Our Daily Undated Six Month Planner is perfect for new planner users or those looking to customize their planning experience. Formatted to show a day per page, think of your planner as a diary, journal and notebook. Jot down all your daily tasks, events, reminders, deadlines and memorable moments for each day. If you're someone that loves making big to-do lists (welcome to the club) this planner is perfect for you. You get an entire half page of to-do's every. single. day. sooooo go nuts!
Lays perfectly flat.
With it's soft vegan leather cover it lays perfectly flat and is great for keeping at your desk or carrying around in your bag.
The beauty of undated planners.
Do you ever feel guilty for buying a planner and not using it for a few weeks? Well, guilt be gone! The wonderful thing about an undated planner is that even if you miss a few pages (or weeks) you won't feel guilty for neglecting it and that is a win win right there!
My productivity is at an all-time high.
I am working on my quarterly goals and I am feeling super accomplished.
This is my third year using STIL planners and accessories. The attention to detail and quality is unmatched
I love my planner, it visually helps me see how much time I am working on my quarterly goals and I am feeling super accomplished.
Since using the planner, I've found that my productivity level has gone up significantly.
This planner is ahhhmazing!!!
I find myself working way less hours than before and having a constant piece of mind that is priceless.
Try it out!
Add your own custom monogram.
Enter your initials here 👇
YOU
Customer reviews
Customer Reviews
Write a Review
Ask a Question
07/27/2021
Gillian

United States
I recommend this product
Business Owner's Pick: Keeping Me on Track!
I love the breakdown of this planner. In daily life I live moment to moment, but in my planners I tend to plan the whole year and stay in the future which makes it hard to plan my individual days that don't have work or meetings already set. This planner gives me just enough time to focus on my own wants and goals within a shorter span so that I can approach each day with intention. I love the todo list and the breakdown of the day. I can look at my day and also make sure that I'm achieving what I set out to do for the day. This has made work more efficient and looks so beautiful! I have mine monogrammed and set to send every 6 months, and it's still more cost effective that other options I've been trying since becoming self employed.
02/08/2021
Macey

United States
I recommend this product
Six Month Planner
I bought this planner because it had so much space for me to write all my todo lists and I can fill in the dates as I go! That works so well for me, because some days I don't need to use it, and therefore, am not wasting a page. I love using one page for personal todo's and the second page for my work todo's. It has helped keep me so organized and truly has made such a difference in my productivity! The layout is great, and I love having the book marker in there as well. I have enjoyed it so much that I had to buy one for my friend because I am so convinced it'll be life changing for her as well! Great planner and will keep spreading the news of finally finding the best planner ever!
02/03/2021
Kirstie B.

United States
I recommend this product
WINNER WINNER
Ok so I am easily influenced and basically instagram consumer #1 so when people started posting new year journals I was ****** in. I have bought over a dozen journals in the past, use them for 2 days, and then forget they exist. I tried bullet journaling and was over it in a week. But I got hit with a STIL ad and said ok well it's a female run business so even if I don't use it at least I supported bad *** women. I FREAKING LOVE THIS PLANNER. I use it daily for work and track all sorts on things on the monthly pages. I am absolutely obsessed with the simplicity of the design and break out of morning, day, night as it works with how my brain structures my time. Seriously — buy this!
01/03/2021
Jennifer K.

Canada
I recommend this product
6 Month Planner
I love this product and was lost at work recently when I forgot it at home! Additionally, Marissa was super helpful with the order and helped me customize some as Christmas gifts when I reached out.
12/31/2020
Phuong

United States
I recommend this product
Amazing Planner!! Thoughtful Design!
Just received my 6 month planner and already in love. I love how it's undated so you can skip a few days with no guilt! The vision board and introspective goals prompts are such a motivating touch! Can't wait to tackle my busy schedule and stay organized with this fantastic planner. It's beautifully made as well, ink doesn't bleed through and I'm obsessed with the gold foil details! Thank you for a very well crafted product ✨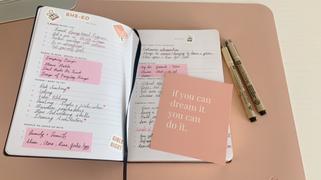 FREE SHIPPING OVER $70 USD

-->