Product Details
The Get It Done Planner is designed to make your task planning as easy and seamless as possible so that you can focus on being your best self. Proven 
to maximize your productivity, the magical features included are:
3 most important tasks of the day so you can focus your mind on what needs to get done as soon as you sit down at your desk in the morning
Start and end your day the right way by outlining your daily routines in the beginning pages of your planner
Finally achieve your greatness by setting 3 realistic goals every quarter (we suggest health, personal and work) 
Mindfulness has never been easier with the daily gratitude sections
Rate your productivity daily by giving yourself a score between 1 and 10 and then reflect on the weekly review pages
Always have your goal in mind by customizing your cover with a sticker of what you want to get done

Join Our Community Of Boss Babes
My productivity is at an all-time high.
I am working on my quarterly goals and I am feeling super accomplished.
This is my third year using STIL planners and accessories. The attention to detail and quality is unmatched
I love my planner, it visually helps me see how much time I am working on my quarterly goals and I am feeling super accomplished.
Since using the planner, I've found that my productivity level has gone up significantly.
This planner is ahhhmazing!!!
I find myself working way less hours than before and having a constant piece of mind that is priceless.
Try it out!
Add your own custom monogram.
Enter your initials here 👇
YOU
Customer reviews
Customer Reviews
10/30/2019
I recommend this product
Obsessed! Replaced all my planners and notebooks!
I have probably tried 100 planners, and I've never found one that I love fully. I've always had to use like 5 additional notebooks for daily tasks, to-do lists, etc. I saw this planner on Instagram and had to get it because first of all it was so pretty, and second, I was really hoping that it would allow me to condense my notebooks into one. It definitely has done that! I love that there's a monthly layout, which allows me to put in meetings, appointments, content I'm working on, etc. My favorite part though, is the daily layout that allows me to prioritize my tasks. I use to have to-do lists in multiple places (my phone, multiple notebooks, sticky notes...), so tasks were often being forgotten. Now, I write my top 3 things that need to get done, and the less important tasks in the secondary task section. I also use a daily gratitude journal, so I love that this daily page has room for me to put that in, as well as mark if I fit in my exercise, meditation, etc. I use to use the Passion Planner, and I loved the vision board, self check in concept, but found it was not as user friendly. This planner has a vision board, pages for my quarterly rituals, weekly reflection, an daily rituals as well, so like I said it's really replaced all my other planners and notebooks and helped me stay on top of my stuff! Definitely recommend!
Nikka K.
United States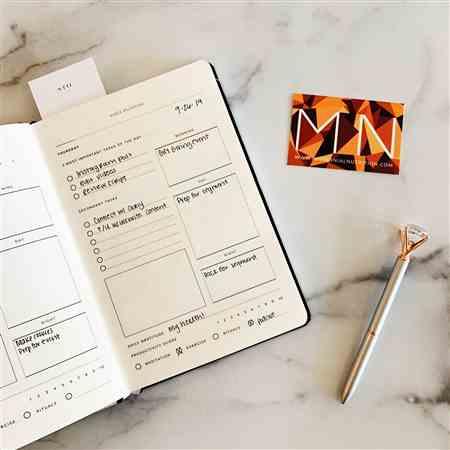 10/05/2019
I recommend this product
Unmatched Quality
From the sturdy cover to the thick pages, this planner is top notch. I love that ink doesn't spill to the other side of the page. They thought of every detail, even a personalized note card the converts to a bookmark. This helped me prioritize my to-do's and consolidate all my lists in to one place. Can't wait to try other Stil products! I know they won't disappoint.
12/06/2019
I recommend this product
I've used close to a
I've used close to a dozen planners and this is my favorite by far!
Caroline L.
United States
11/26/2019
I recommend this product
SO HELPFUL!
I have a whole graveyard of planners that I thought were going to save my life, but this is the first one I have used that has actually helped me! I'm waiting for my third one to arrive in the mail now. Here's what I love: 1) It's not dated so you don't have to wait to start using it. (I started my previous one on September 23rd) 2) It has a a space at the beginning to write the 3 goals and steps to work on over the next three months 3) It has a Weekly Schedule to jot in appointments etc for the week so you know what the week looks like 4) There are Daily Schedules where you prioritize your 3 most important tasks, and then add more once those are complete 5) You track the time you spend on each item with checkboxes beside each task that represent 25 minute increments so you actually know how you're spending your time 6) There is a weekly check-in that helps you evaluate and troubleshoot your progress. There are a bunch of other features, but those are the ones I have found most helpful. If you're hesitant about trying it, it's also only a 3 month planner so you don't feel like you're locked into 12 months if you're not sure about it. This planner has been ridiculously helpful for me! I'm so glad I found it. :)
Taucha P.
Canada
11/05/2019
I recommend this product
Amazing product!
I have the 2019 planner and the Get It Done planner and I love both. They quality is amazing, and the design is perfect. I had been looking for a minimalist lookig planner for years and after finding Stil I've recommended it to all my friends. Get any of their items, you won't regret it!
Lora
Canada
FREE SHIPPING OVER $60 USD